One of my mini goals for the year is to write a review on Goodreads for every book I read. I usually look at Goodreads for recommendations of books to read, but I don't usually bother to write reviews myself. I'm trying to change that because I get so much use out of other people's reviews so I figure I should try to provide some, too. And then I thought that I'd share them here as well. A fairly quiet January meant that I had a lot of time for reading and read five books, four fiction and one non-fiction. Four were by female authors, and two are continuing my goal of reading all of the Women's Prize for Fiction winners. Years/decades of voracious reading means that I am generally very good at selecting books I'm going to love, so all of them ranged from pretty good to excellent. Here they are:
My rating: 4 of 5 stars
I can't think of a better way to kick off 2019 by spending most of the day reading an entire book, and Sadie was a solid choice for that first book of the year. Instantly gripping, I enjoyed the structure of current podcast episode transcripts interspersed with past events from Sadie's point of view. Sadie herself was compelling, a not-quite-antiheroine (she may have done more than a few questionably-legal things but you can't argue that she wasn't justified) with a captivating mix of vulnerability and bite. The plot was weighed down with too many characters in parts, but overall it was a quick and enthralling read.
My rating: 4 of 5 stars
Migration, racism, conflict, class differences; Small Island may be set during and after the second World War, but its themes resonate just as much today. Stylistically, it's interesting in its non-chronological order that moves back and forth to reveal new layers of each of the four POV characters each time. The dialect of each character is what really makes the novel for me; Levy captures the voices of the Jamaican immigrants, the white, working-class British woman, the American soldiers, each with their own cadences and vocabulary that lets you hear them in your mind as you read.
The Idea of Perfection by Kate Grenville
My rating: 3 of 5 stars
I picked this as the next novel to read in my quest to read every Women's Prize for Fiction winner mainly because it's set in Australia and I've recently moved to Australia. Now, I'm in a city rather than a small town, but it definitely seems to fit what I've heard about small Australian towns (and what I know about small towns elsewhere)—this everybody knows everybody's business, but that there isn't much business to be known. And yet, this slice of life look at fairly unmemorable people living fairly unremarkable lives is strangely compelling, relayed with dry humour and witty turns of phrase to make it an entertaining tale.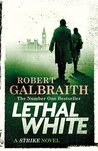 Lethal White by Robert Galbraith
My rating: 5 of 5 stars
Crime novels are like comfort food—you don't always want the same thing, sometimes you want the trustiest box of Kraft mac'n'cheese and sometimes something a little more exotic, but you always want to more or less know what you're getting. And you don't want to be too surprised; maybe you don't solve the case but you want to feel like you *could* solve it, like the clues are there for you and not pulled out of nowhere from something we have no access to as readers. At the same time, you don't want them to be tired, the freezer-burned chicken fingers only a picky child would want. If crime novels are comfort food, Lethal White is a feast. Maybe the kind of feast that you need to save half for leftovers, because it's really damn long, but complex and thrilling, intertwining crime and politics family drama and Cormoran's and Robin's personal lives (including Matthew, who continues to be The Worst). It is a dense and bulky book, but while there's a bit of filler and it gets a bit over-monologued at times, for the most part it's a satisfying meal.
In the Garden of Beasts: Love, Terror, and an American Family in Hitler's Berlin by Erik Larson
My rating: 3 of 5 stars
Like many people, I picked up The Devil in the White City for the true crime, serial killer stuff about HH Holmes, but I stayed for the Chicago World's Fair, a topic about which I hadn't any prior interest but quickly became enthralled in reading about. So I was sure that this book about another less-exciting-to-me aspect of a major historical event about which I am interested would be equally gripping. Not so for me, unfortunately. The writing was excellent as usual, but the characters of Dodd and Martha were less than fascinating—no fault of the author's of course, he didn't event them, but in the end I found the book to be rather slow. Still, again, the writing had moments that resonated both with me as a reader and with our political landscape today, so it was an interesting read nonetheless.